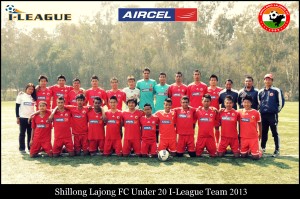 The North Easterners battled from two goals behind to earn a 2-2 draw against Air India on Sunday afternoon at the Gopal Maidan in Jamshedpur.
Air India was leading 2-0 thanks to Yungrei who scored both the goals however, Shillong Lajong scored in each half with Bipin and Lalrammuana on the scoresheet.
Both the teams marched out to the field hoping to make a positive start and get a win under arguably very bad pitch conditions.
Air India took an early lead when Yungrei's long range shot beat Lajong custodian Nitin in the 6th minute.
Lajong pushed for the leveler but were unlucky to concede the second goal that came from a cross by an Air India winger who found his team mate Yungrei, scoring his second goal within fifteen minutes of the game.
After some good build-up play by the Reds, the contest sparked to life when the Shillong lads won a free kick just 5 minutes before the end of the second half and Jacob's free kick landed on Bipin who made sure he took a shot and earned himself and his team a goal.
Whatever was said in both dressing rooms during the break certainly seemed to work as the second half started on a more lively note with both sides fashioning opportunities in quick succession.
This was evident when Lajong came back in the second half by pressing into the opponents half. The lads won a corner and were rewarded for their best efforts when Lalrammuana managed to place the ball into the goal giving them a crucial equaliser in the 67th minute.
With the points being split, Shillong Lajong FC is in second place with 3 points and will take on Mohun Bagan on the 14th of March. While Air India is in the 5th position with 2 points and has one more game to play against Sesa Football Academy on the 12th of March.