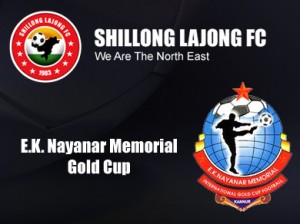 SHILLONG LAJONG FC 1-1 MUMBAI FC:
Shillong Lajong FC played its first match against Mumbai FC with both sides playing out a 1-1stalemate in the E K Nayanar Tournament at EMS Corporation Stadium, Kozhikode.
In the first half, both sides had equal ball possession
In the 15th minute of the game, Haroon Amiri of Mumbai FC almost found the back of the net but his shot went wide.
Furthermore, during the 20th minute, Nicholas Rodrigez's cross into the middle was very well collected by Lajong's goalkeeper Gumpe Rime.
Mumbai FC was awarded with a free kick in the attacking half courtesy Tuboi's foul on Dhanchandra Singh.
In the 33rd minute of the game, Matthew Mayora lifted the ball through the Mumbai FC defenders and was well founded by Tuboi, who controlled it exceptionally well and slotted the ball pass the keeper.
The North East giants took the lead 1-0.
In the second half, Haroon Fakruddin Amiri and his header went straight into the goal with a long throw in for Mumbai FC by Dhanchandra Singh.
In the 65th minute of the match, the score was Lajong 1-1Mumbai FC.
Tuboi received a cross from the left in the box and he was brought down by Mumbai FC's goal keeper Sanjibam Ghosh. The Referee gave a penalty in favor of Lajong and booked the keeper in the 72nd minute. Mathew Mayora stepped up for the penalty and found the back of the net but it was not counted because Mumbai FC players rushed into the box before the kick was taken. The referee, however, asked for a retake and in his second attempt the goal was blocked by the keeper.
Sanjibam Ghosh of Mumbai FC was booked in the 72' with a yellow card and Lajong's Lalramluaha was handed a straight red card in the 83′ for tackling Faizal Rehman from behind.
Shillong Lajong FC produced impressive moves but missed some great chances to take the lead. Al though, in the second half both sides were dominant and tried to convert all scoring opportunities. Lajong almost made it 2-1 in the 88′ when they were awarded a free kick from 25 yards taken by Eugenson Lyngdoh. It was a good effort but failed to find the target.
The match concluded with a draw and the Man of the Match was awarded to SLFC's S.Tuboi.
SLFC will be playing their second match against Army XI scheduled for 14th March, 2012 at 4:45pm