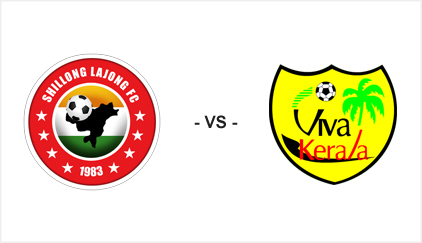 Viva Kerala have boosted their survival hopes by beating fellow relegation contenders Shillong Lajong 2-1 at the Kozhikode Municipal Stadium on Tuesday afternoon.
Rahul P and C.S. Sabeeth scored for the hosts while James Giblee pulled one back for the north eastern club.
With only one point separating the sides prior to the game, this was always going to be a close encounter.
Hosts Viva came into this on the back of three consecutive defeats so they were determined to take make their home advantage count against fellow relegation contenders Shillong Lajong.
The home side started brightly and had a golden opportunity to take the lead in 9th minute when Aibor Khongjee's poor back pass was intercepted by C.S. Sabeeth but the young striker could only force a corner off Lajong custodian R Lalthuammawia.
Viva continued to apply pressure and had another good chance midway through the first half when Sirajudeen found himself free in the Lajong box after a goalmouth scramble but the winger failed to hit the target from close range.
At the other end Lajong offered very little going forward and were badly missing the influential Daniel Bedemi, who was ruled out from this game due to suspension.
Viva finally took the lead in the 35th minute when Sirajudeen's cross from the right flank was slotted into the back of the net by Rahul P.
A.M. Sreedharan's side deserved to be in front as they dominated midfield and defended really well at the back with Bello Razzaq being the standout performer.
In the second half, visitors Lajong showed a lot more ambition as they were looking to score the equalizer.
But it was Viva who got the next goal of the game as youngC.S. Sabeeth scored with a very fine header to give his side a two goal cushion.
However the deficit was reduced two minutes later when James Giblee got on the end of a through pass and scored with a very finish past Viva keeper Shahinlal.
Lajong were now confident of completing the comeback as they had more than 40 minutes to find the second.
However their finishing wasn't the best as Anil Gurung wasted a couple of very good openings. Viva's defending also got better in the second period and they were also much more conservative.
In earlier rounds the club from Kerala have been guilty of not protecting their lead properly as they have let in late goals.
Their tactics was defensive in the latter stages of this game also but they did keep the ball much better which made it very difficult for Lajong.
In the end, Viva did enough to earn three priceless points which moves them up to ninth in the table and are three points above the bottom two with only two rounds remaining. The defeat is a big blow for Lajong as they are now only one point off the drop zone.
Goalscorers: Rahul P (Viva Kerala) 35', C.S. Sabeeth (Viva Kerala) 53', James Giblee (Shillong Lajong) 55'