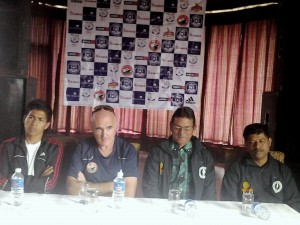 The Reds will take on Kolkata side Prayag United SC in a tight battle of the I-League 2012-13 season tomorrow at the JN Stadium Shillong at 2.30PM.

Prayag United SC Head Coach Sanjoy Sen said that the boys should not lose their concentration and should stay focused. He also commented that in any football tournament a team cannot always win all the games. Also, no one should judge whether a player is good or not just by one performance. It can take time for a team to settle down and adapt to all kinds of situation. He also said that Lajong is a good team and they play high quality football.

Head Coach of Shillong Lajong FC Desmond Bulpin said that Prayag United is one of the best teams in the I-League. They have performed remarkably well right from the start of the season. The coach said that he is looking forward for the game tomorrow and hopes that the crowd will stand behind the team and support the boys the entire 90 minutes of the game.

"The boys have the fighting spirit and I believe that they will continue to fight till the end because they have the will to never give up", he added.

Renedy Singh, the captain of Shillong Lajong FC said that Prayag United is a tough side to beat this season and they have good players in their squad. "We will have a good match tomorrow and the boys will definitely put up a good fight. We have to play a high tempo and high pressurising game in order to beat the Kolkata side. We will play for a win", he concluded.