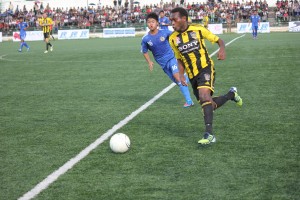 Wellington Phoenix FC thrashed Royal Wahingdoh FC with an impressive 3-0 win in an exhibition match that was played out at the JN Stadium Shillong on Wednesday.
The black and yellow brigade looked stunning throughout the match and displayed high quality performance with Jeremy Brockie scoring his second hat trick in the North East Lajong Super Series tour, which is being organised by JPR Events,and the first was achieved in Manipur when the A-League club played against Shillong Lajong FC on Sunday.
Jeremy Brockie, who joined Wellington Phoenix this season from Newcastle Jets, found the back of the net in the 29',47' and 90+ minute.
Newly crowned Shillong Premier League Champions, Royal Wahingdoh FC had a couple of chances in the match but failed to convert,against their more experienced opponents.
Shillong Lajong FC will take on United Sikkim FC tomorrow at the JN Stadium Shillong at 3PM. The winner will play against A-League side Wellington Phoenix FC on Saturday at the JN Stadium Shillong at 3.15PM.
The tickets for the North East Lajong Super Series are available at the following outlets:
JN Stadium, Polo
Hotel Centre Point, Police Bazar
Biryani Hut, Garikhana
Manbha Snack Bar, Fire Brigade
Ticket Rates are as follows:
Open Gallery – Rs.100
Covered Gallery – Rs.200 and Rs.300
VIP – Rs.400